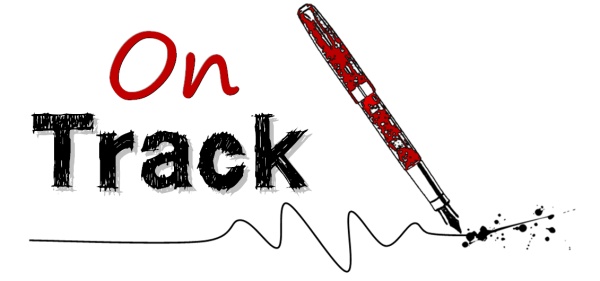 Welcome to On Track!
Free Membership
With free membership, you'll receive one module each week (you have lifetime access to all seven modules after that). Once you get your weekly email, the new module will be available. If you click the link to it before then, you'll be told you don't yet have access.
Scroll down to the bottom of the page to download your copy of Seven Pillars of Great Writing.
Full Membership
With full Writers' Huddle membership, you already have access to all the modules. Enjoy!
If you've upgraded part-way through On Track, you'll continue to receive one module per week. If you'd prefer to have access to all the modules straight away, just email me at ali@aliventures.com and I'll set that up for you.
An introduction to the course, so you're confident about what's coming up week by week
Four ways to get past the first hurdle of getting started – so that you can get going with your project straight away
A quick, simple (but important) assignment to get you writing – this only takes fifteen minutes
Step-by-step guidance on how to split your work-in-progress into sensible milestones that'll keep you motivated
Specific advice on what to do if your project doesn't seem to fit (for instance, if you're writing a blog that has no specific end point)
The reason why (self-imposed) deadlines matter – and how to set sane ones
How to find your best writing time of day – this alone can double or triple how much you write in an hour
The difference between setting time targets and word targets – there's no "right" way, so this lesson helps you figure out what works for you
The advantages of short writing sessions – and of long ones. Again, this is all about finding the right pace for you
Specific advice on planning different types of project – novels, blogs and ebooks – so that you can make sure you don't waste time scratching your head or running off on a tangent
Different ways to plan (like mind-mapping and using index cards) so that you can figure out what you find easiest
How to plan if you're already part-way through your project
The difference between first drafts and final drafts, so that you don't get bogged down trying to achieve perfection on day one
How to avoid distractions like doing too much research, or trying to edit too soon
Step by step advice for each stage of the drafting process
Four places to find writing support – including a couple of easy ones for when you don't have much time or energy
Tips on sharing your work with a friend or a group – I know how daunting this can be, but also how rewarding it is, and how much it can help you grow
How to critique other writers' work: if you're asking for feedback from fellow writers, there's a good chance that you'll end up returning the favour
Why you have more resources than you think – a fresh look at your own skills and experiences
The four crucial qualities which every writer needs, with specific tips on how to build them
The three big external resources that matter, and how to gather and create these
Seven Pillars of Great Writing: Your Course Ebook
Seven Pillars of Great Writing covers:
Structure: Why it matters, and how to get it right
Flow: How to get transitions and pacing right
Clarity: Making your ideas, argument and sentences clear
Tone: Writing in a consistent and appropriate way
Grammar: Myths busted — and the basics explained clearly
Economy: Making your piece concise and engaging
Heart: How to make your writing powerful
Click here to get the .pdf of Seven Pillars. (Left-click opens in a new browser tab; right-click allows you the option to save it to your computer.)