Already a member? Click here to go to Writers' Huddle.
---
Writers' Huddle is now closed for new members. If you'd like to be notified when it reopens, please pop your email address in the box below:
Perhaps your writing dream looks like one (or several) of these:
Finally finishing that novel … the one you've been writing  for years
Growing your blog and getting guest posts onto big sites
Getting your articles published in magazines
Making a full-time living through the magic of taking words from your head and putting them onto paper
Joining the self-publishing revolution … once you've written your book
It might even be something deceptively simple (but hard) like:
Having enough confidence to put your writing out there
Finding the time to write regularly, instead of struggling to stick with it
Feeling able to call yourself a "writer"
Maybe no-one, no-one, seems to understand. Your friends don't get it. Your family say, "That's nice, dear." You keep wishing someone would take your dreams seriously.
I do.
I believe that writing is powerful and vital to our world.
I believe you have a unique story to tell, a unique message to share.
I believe that your writing matters.
And that's why I created Writers' Huddle.
When you become a member, you:
Join a supportive community of like-minded people – so you can share your struggles and your triumphs
Learn new tips and techniques that you can put into practice right away – you can go at your own pace through three introductory self-study courses
Get a regular dose of new writing knowledge and inspiration – through in-depth monthly seminars and weekly emails
Have the opportunity to ask anything you want – and get answers straight from me
Share your work with other writers – receive honest feedback in a safe, supportive environment
We have members all around the world, ranging in age from 14 to 70+ … and a wealth of experience in different forms of writing. Whoever you are, whatever your writing goals, you'll find a home here.
Membership of Writers' Huddle is just $19.99/month (paid via PayPal).
There's no minimum commitment: you can even join for a month, take advantage of all the existing content, and leave.
In fact, if you decide that Writers' Huddle isn't for you, just let me know within 30 days and I'll be happy to refund your first month's membership fee.
I'm a freelance writer in Fayetteville, Arkansas. My forte is non-fiction writing, mostly web content, e-book creation and web copy in technical areas, such as computers, software and other related subjects. I'm not a newbie by any means; however, joining the Huddle has shown that you can teach an old dog new tricks.

Many of the members are fiction writers and have a different point of view than non-fiction authors. As a result, I've been exposed to techniques and ideas that were new to me. The camaraderie and willingness to share have been beneficial to my growth as a writer. Ali and the gang are great supporters and will spur you on to do more, do better, to succeed!

– Steve Maurer (Maurer Content and Copywriting)

About Ali
I'm Ali Luke, and I'm a full-time writer, making a living through my words. I've been blogging professionally for four years, and you'll find my work on lots of large sites like ProBlogger, Copyblogger and Write to Done.
I've got an English Literature degree from Cambridge University (2006) and a Creative & Life Writing Masters from Goldsmiths College, University of London (2010).
I'm the author of the recently-released Publishing E-Books For Dummies, in Wiley's popular For Dummies series.
Oh, and I worked in IT for two years (2006 – 2008) doing software testing, user support and documentation, so I'm good at explaining technical things in plain English.
Full Contents of Writers' Huddle
Here's what you'll get as soon as you join:
Your Welcome Pack
You'll receive this straight to your inbox, as a .pdf, so that you can download it and read it at your convenience. You can even print it out, if you want.
Your Welcome Pack will help you get off to a great start with Writers' Huddle.
Seven Pillars of Great Writing (ebook)
Seven Pillars of Great Writing is a 41-page ebook covering the following:
Structure: Why it matters, and how to get it right
Flow: How to get transitions and pacing right
Clarity: Making your ideas, argument and sentences clear
Tone: Writing in a consistent and appropriate way
Grammar: Myths busted — and the basics explained clearly
Economy: Making your piece concise and engaging
Heart: How to make your writing powerful
Each chapter gives you real-life examples so you can see how other writers put these seven pillars into practice.
Access to The Writers' Huddle Forums
You can chat with me, and all the other Writers' Huddle members, on the forums. If you want, you can post pieces of work-in-progress for other members to comment on. The Writing Chat forum always has interesting topics to join in with, and we run the monthly Book Group through the forums too.

The Writers' Huddle forums. (Names have been blanked out to protect members' privacy.)
Although the Writers' Huddle is a new community there are lots of incredibly useful resources and wonderfully helpful members. The Q&A section is great too allowing you to get your questions answered. I've been a lurker too long but my new writing projects mean that the Huddle is one resource I'll be using regularly as I complete them. Not least because I can get input and feedback from my fellow Huddlers.

– Amanda Davey

It's wonderful, and I've gotten so much support, even though I'm really young and don't have much experience (only a few years.) The forums have very cool people, and the newsletters have tidbits that're useful. I spend most of my time on the forums, since there's so many sections to explore, add to, and absorb.

– Allison
Four Self-Study Mini-Courses
These are self-paced courses that you can go through as quickly or slowly as you want. Each one is broken down into short lessons with exercises to help you put what you learn into practice.
All of these are suitable for beginners, but I'll also be adding more advanced mini-courses. As a member of Writers' Huddle, you'll be able to tell me exactly what you'd like to learn.
Your mini-courses are:
Getting Started with Fiction (text)
If you're new to fiction writing – or if you just want to brush up on the basics – then this mini-course is for you. It's suitable for short story writers and for novelists. The six lessons cover:
Lesson #1: Ideas:Why ideas aren't hard to find; where you can find yours
Lesson #2: The Three Key Elements of Fiction (Plot, Character and Setting)
Lesson #3: Plot: Understanding conflict; creating and outlining your plot
Lesson #4: Character: What makes a great character; how to develop characters
Lesson #5: Setting: Understanding setting; deciding where your story should be located
Lesson #6: Getting Started: Three tips for getting going on your story
Microsoft Word for Writers (text and video)
Many writers use Microsoft Word – but most of them don't know how to use it effectively. This mini-course has six lessons covering:
Lesson #1: Headers and Footers: Putting text at the top/bottom of every page
Lesson #2: Page Numbers: Adding numbers to each page without typing them in
Lesson #3: Paragraph Styling: Easily creating indents or blank lines between paragraphs
Lesson #4: Heading Styling: Creating chapter titles and subheadings the right way
Lesson #5: Table of Contents: Adding an auto-generated table of contents to your document
Lesson #6: Page Breaks: Keeping your document neat using page breaks
Setting Up Your First Blog (text and video)
If you're interested in blogging but aren't sure how to get started, then this mini-course will help. You'll learn how to set up your first blog, with seven lessons covering:
Lesson #1: Naming Your Blog
Lesson #2: Creating Your Account with WordPress.com
Lesson #3: Activating Your Account
Lesson #4: Changing the Design of Your Blog
Lesson #5: Deleting the Default Post
Lesson #6: Editing Your About Page
Lesson #7: Writing Your First Post
Twitter for Writers (text and video)
A lot of people struggle to "get" Twitter initially … but it's one of the best social networks for us writers. This mini-course helps you get started.
Lesson #1: Creating Your Twitter Account:how to get set up quickly
Lesson #2: Writing Tweets:getting going, knowing what to tweet about
Lesson #3: Following and Followers: understanding this, and choosing who to follow
Lesson #4: Twitter Features and Terminology: know your "reply" from your "retweet"
Lesson #5: Making Twitter Even Easier to Use: ways to get the most from Twitter
I am enjoying Writers' Huddle a lot. It has quickly become a vital part of my ongoing learning as a writer. In such a short time (of its existence) I have already received some very helpful critiques of chapters of my nonfiction book and my blog posts and guest posts. A few days back a spot-on interview of Seth Leonard on blog sidebars enabled me to make changes to my blog in minutes that improved it considerably.

The people in this community are warm and friendly and supportive. It's a safe place to share your work and get feedback. And they are not afraid to tell you what they think, honestly and constructively. I value that. Ali Luke is endlessly inventive and has an uncanny way of targeting and providing the very information we all need in order to improve our writing skills. I highly recommend this community.

– Bill Polm (Keys to Writing)
Archive of Seminars and Q&As
Writers' Huddle has been running for nine months. When you join, you'll have access to all the existing seminars and Q&As, including:
February: Controlling Your Love/Hate Relationship with Writing (seminar, 25 mins audio)
If you're struggling to write, or feel ambivalent towards your writing, this seminar will help. It covers:
Why it's totally normal to hate your writing, some of the time
How to get through three critical stages in the writing process
Seven ways to get your writing done (even if it's hard)
March: Freelancing 101 (seminar, 47 mins audio)
Whether you want a bit of extra cash or a full-time income, freelance writing is a great way to make money doing something you love. This seminar covers:
How to know if freelancing is right for you
Why you need a website – and what pages you should put on it
How to set your rates and give project quotes
What to do if you're thinking about full-time freelancing
March: How to Turn Your WordPress Sidebar from Boring to Soaring (webinar)
This guest webinar (video recording) with website expert Seth Leonard covers:
How to highlight your best performing posts in your sidebar
The best way to include your social media accounts
How to add an email list signup form to your sidebar (MailChimp and Aweber)
The easiest way to design "free form" content in your sidebar
April: Making Money from Your Writing (seminar, 25 mins audio)
Freelancing is just one way to generate income through your words. This seminar gives you an overview of how writers make money:
Why it's a lot easier to make money from non-fiction than fiction
The three core ways to make writing pay
Understanding which method(s) are right for you and how to combine them
How to start (or go further with) making money writing
May: Short Stories and Fiction Writing, with E.J. Newman (seminar, 59 mins audio)
This guest seminar with author E.J. Newman covers:
How a short story got Em into Oxford
Getting from an initial idea to a full short story
Creating twist short stories that work
The importance of writing community (online and offline)
June: Writing Your First Novel (seminar, 37 mins audio)
If you've ever wanted to write a novel, now's your chance! This seminar is aimed at writers who haven't yet taken the novel plunge … though if you've attempted a novel before, you'll find it useful too. It covers:
Ways to get started on your novel, especially if you've been thinking about it for months/years
Why character needs to come before plot
How to decide between first and third person, and past and present tense
How to separate writing from editing
The four things you need in order to begin your novel
July: Publishing an Ebook (seminar, 35 mins audio)
Ebooks are making huge waves in the publishing industry, and they've opened up a lot of new possibilities for authors who want to publish independently rather than seeking out traditional publication. This seminar covers:
Why now is a great time to join the ebook revolution
How self-publishing is becoming more respected
Different options for publishing your ebook (pdf for computers, or epub/mobi for ereaders)
Why cover design matters so much … and how to get it right
How to decide on a price for your ebook
August: Building Your Author Platform Online (seminar, 42 mins audio)
Whatever sort of writing you do, and whatever your goals, building a platform is more important than ever. The online world offers lots of opportunities to do just that. This seminar covers:
What an author platform is, and why you need one
Three key ways to build an online platform: blogging, mailing lists, and social media
How to know what to write about on your blog … whatever type of writer you are
How to get started with a mailing list (and why it's a useful addition to your platform)
How to use social media to grow your audience and your network
September: Getting Into a Great Writing Routine (seminar, 35 mins audio)
With all the other demands of life, it can be tough to stick with our writing. If you're struggling to find time to write, or if you feel as though your current routine isn't working, this seminar will help. It covers:
Why there's no "perfect" writing routine
The importance of the place where you write
How to decide when best in the day to write
Ways to stay motivated and enthusiastic
Why your writing is important
All seminars and Q&As have edited transcripts for easy reading, if you prefer to read rather than listen.
I have learnt a lot in the few months that I've been a memeber of the Huddle, both through the seminars and Q&As as well as on the forum, gleaning advice from other members. Being in a community of writers has also given me the confidence to write my first guest post (which was accepted) after three years of blogging!

– Melissa Goodwin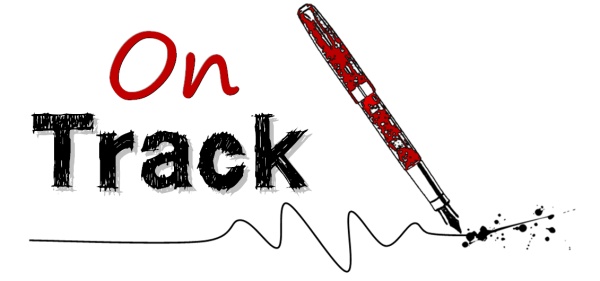 On Track: Full E-Course
My On Track e-course is now exclusively available to Writers' Huddle members, and it's included in your Huddle membership. You can go through the course at any time, at your own pace.
It covers:
Module 1: Make a Great Start
An introduction to the course, so you're confident about what's coming up week by week
Four ways to get past the first hurdle of getting started – so that you can get going with your project straight away
A quick, simple (but important) assignment to get you writing – this only takes fifteen minutes
Module 2: Setting Milestones That Work
Step-by-step guidance on how to split your work-in-progress into sensible milestones that'll keep you motivated
Specific advice on what to do if your project doesn't seem to fit (for instance, if you're writing a blog that has no specific end point)
Why deadlines matter – and how to set sane ones
Module 3: Your Perfect Writing Routine
How to find your best writing time of day – this alone can double or triple how much you write in an hour
The difference between setting time targets and word targets – there's no "right" way, so this lesson helps you figure out what works for you
The advantages of short writing sessions – and of long ones. Again, this is all about finding the right pace for you
Module 4: Planning Your Project
Specific advice on planning different types of project – novels, blogs and ebooks – so that you can make sure you don't waste time scratching your head or running off on a tangent
Different ways to plan (like mind-mapping and using index cards) so that you can figure out what you find easiest
How to plan if you're already part-way through your project
Module 5: Getting from First Draft to Final Piece
The difference between first drafts and final drafts, so that you don't get bogged down trying to achieve perfection on day one
How to avoid distractions like doing too much research, or trying to edit too soon
Step by step advice for each stage of the drafting process
Module 6: Sharing Your Love of Writing
Four places to find writing support – including a couple of easy ones for when you don't have much time or energy
Tips on sharing your work with a friend or a group – I know how daunting this can be, but also how rewarding it is, and how much it can help you grow
How to critique other writers' work: if you're asking for feedback from fellow writers, there's a good chance that you'll end up returning the favour
Module 7: All the Resources You Need
Why you have more resources than you think – a fresh look at your own skills and experiences
The four crucial qualities which every writer needs, with specific tips on how to build them
The three big external resources that matter, and how to gather and create these
50% Discount on All My Ebooks
As a Writers' Huddle member, you get a 50% discount on all my ebooks. That means that you can pick up one of my Blogger's Guides for $14.50 instead of $29, or all three Blogger's Guides for just $28.50.
You'll also get a 50% discount on any future ebooks too.
Monthly Seminars
Every month, you'll get an exclusive seminar.
The seminars each take an in-depth look at a particular writing topic: they are audio recordings, usually around 30 – 40 minutes long, with a transcript and worksheet in .pdf format.
Sometimes, the seminar is from me. Other times, I bring on board an expert in a particular area and I'll get them to share all their tips. If there's a particular topic that you'd like to see covered in a seminar, you can propose it in the forums.
Upcoming topics include:
Getting started with writing poetry
Getting started with writing articles for magazines
Writing great dialogue
Creating compelling characters
Monthly Book Group
Each month, we choose one book to read and discuss. This is completely optional, and you can join in as often or as infrequently as you want.
So far, we've looked at a wide range of books, covering everything from short story writing to online platform-building. Any Huddler can propose a book for discussion, so if there's something you want to get round to reading (or have read and would like to discuss), you're welcome to suggest it.
Q&A Forum
I read all the forum posts, but I often step back a little from discussion to let fellow Huddlers share their ideas, knowledge and expertise.
If you have specific questions for me, though, I'm more than happy to answer them. I've created a Q&A forum especially for those.
Anything goes here: no question is too big or too small, too complex or too basic. If you do ask a question with a very broad scope, I may also use it as the basis for a seminar.
Weekly Emails
Every week, I email you with a summing-up of what's been happening in Writers' Huddle. You'll typically hear about:
Any recent new teaching content (e.g. seminars, mini-courses, Q&A recordings)
Great forum threads, which you'll want to check out
Any important news or announcements, like a new Book Group discussion
If you have a busy week and don't have time to log into Writers' Huddle, the weekly email will help you catch up fast.
You get all of this for just $19.99/month:
I remember getting the notification that Ali had started the Huddle and instantly thinking: if there ever was a place to connect with other writers and learn how this online niche works, this is it! And I was right. I've learned so much here from other members – and of course from Ali – as we all have different backgrounds and experiences with writing, you have no idea

– Vala Faye
Plus … Blog On, Starting in October
On October 15th, we'll be beginning a new full (eight week) ecourse in the Huddle, Blog On.
All the Blog On materials will remain available in the Huddle after the course is over, so you can go through them at any time. In the past, though, I've found that writers get the most from Blog On when they work through it as part of a group.
Module 1: Coming Up with Ideas – Monday 15th October
Knowing what you're aiming for – understanding what blogging can do for you, and setting yourself goals for your blog
Choosing (or refining) your blog's topic – what should you write about in order to achieve your goals?
How to generate ideas for your blog – different tips and techniques to get your mind into gear
Module 2: How to Write a How to Post – Monday 22nd October
What makes a good how-to post – so you don't waste your time writing something that your audience doesn't care about
The importance of the three-part post structure: introduction, main body, conclusion – by getting this right, you draw readers in, keep them reading, and make sure they stick around at the end
How to come up with the steps of your post – you'll learn three different methods for this, so that you can find out what suits you best
How to format each step of your post – because this makes it easier to write, and easier to read
Module 3: Your Contact Page – Monday 29th October
Understand why a contact page is important – and learn what to call it and where to place it in your blog's navigation
Learn what to include on your contact page – so that it's easy for your readers to connect to you in their preferred way
Write and structure your page – with a contact form to encourage readers to engage with you
Module 4: How to Write a List Post – Monday 5th November
What makes a good list post – so you can brainstorm some powerful ideas that will resonate with readers
How to use the three-part structure for list posts – the introduction and conclusion are still crucial to "frame" your list and to get your readers to take action
How to brainstorm list items – you'll be able to pick from three different methods, so you can use whatever works best for you
Why order matters, and how you can impose it on your list – so that your post will stand out above the crowd (most bloggers don't think at all about how to order their list items)
I have found Ali's work to be consistently useful and this course is no exception. The course takes you step by step, through what you need to do to write good, solid blog posts. I have admired Ali's writing for a long time and have often visited her site to get inspiration about how to write or structure a post so it is great to go "behind the scenes" and learn more for myself about writing excellent web content.

- Jen M. Smith, JenMSmith.com
Module 5: Your About Page – Monday 12th November
Get to grips with your About page – the most-read page on your blog, and the hardest one for most bloggers to write!
Develop a clear mission statement – this will help you to get readers' attention, and it'll give you some guidance for future posts
Learn what to include on your About page – so you deliver the information that readers are looking for, and you establish a personal connection with them
Module 6: How to Write a Link Post – Monday 19th November
How to come up with a focused and manageable idea – so you can deliver value to your readers without spending the next four weeks hunting down links…
Several great ways of opening your link post – it's important to add a bit of "you" to your post when you're mainly linking to other people
How to deliver real value to your readers – a collection of links on its own isn't very useful, so we'll look at different methods for fleshing it out
Techniques for using link posts as a regular feature on your blog – this can boost your standing in your niche
Module 7: Your Services Page – Monday 26th November
Brainstorm some ideas about writing-related services you could offer – so that you can make money directly from your blog
Learn how to market your services on your blog – with a page that's designed to draw prospective customers in
Add testimonials and step-by-step explanations – to help your customers make up their minds to buy!
Module 8: Advanced Blog Post Structures – Monday 3rd December
Taking basic post types further – learn ways to develop the "how to", "list" and "link" post structures
Developing consistent structures – save time by re-using basic structures, such as for book or product reviews
Breaking down other writers' posts – find and use great structures, based on posts that you've enjoyed yourself
Throughout Blog On, we'll have a dedicated forum area where you can talk to other Writers' Huddle members who are taking part in the ecourse. I'll be keeping a close eye on this forum and answering any questions that crop up.
Your Writers' Huddle Questions Answered
If you've got a question about Writers' Huddle which I haven't addressed here, just drop me an email (ali@aliventures.com) and I'll get back to you.
$19.99/month Seems Low for All This – What's the Catch?
There's no catch! I've kept the price low because I want Writers' Huddle to be affordable for as many writers as possible, from hobbyists to new freelancers to fiction-writers.
Whenever I add new materials to Writers' Huddle, even full ecourses, these are included in your membership fee.
How Do I Pay?
All payments are through PayPal. The $19.99 is automatically taken every 31 days (meaning that you get an extra few days free every year). If you're not in the US, PayPal will automatically convert your own currency into dollars, so you don't need to worry about that.
If you don't already have a PayPal account, you'll be given the option to create one when you click the "Join Now" button.
You can cancel your membership at any time, of course.
What if I Don't Have Time for Everything?
There are no mandatory elements of Writers' Huddle: you can do as much (or as little) as you want. The weekly emails are designed to give you a quick summary of what's been happening in the Huddle, to help save you time.
All the content will be available to you for as long as you remain a member: you don't need to worry if you can't listen to a seminar straight away, for instance, or if you want extra time on an ecourse.
How Will I Get All the Content?
There are several types of content to suit different topics and different learning styles:
Written lessons that you can read online, in On Track and all the mini-courses
Short videos to help you understand technical concepts, in the Microsoft Word for Writers, Starting Your First Blog and Twitter for Writers mini-courses
Audio recordings for the monthly seminars, with written transcripts for people who don't like listening to audio, plus worksheets to help you put what you learn into practice
Online forums where you can interact with me and other members by writing messages
Weekly emails to help point you towards new content and interesting forum discussions
As soon as you join, you'll get a welcome pack that helps you get oriented.
What if I Want to Leave?
You can leave Writers' Huddle at any time by cancelling your membership.
If you cancel within the first 30 days, I'll give you a full refund on your initial month's fee. I want you to be able to try out Writers' Huddle without worrying that you'll end up wasting money.
Joining the Huddle has been a great step for me. It's given me an opportunity to chat with fellow writers on a daily basis. I've received constructive feedback from other Huddlers on pieces offered for critique that immediately improved my own writing. I've swapped links on writing tips and greatly enjoyed discussing books on the craft that we've read together. I look forward to being part of this community as I continue on my path to being a published writer, because I know I'll be the better for it when I get there.

– Sean Cunningham