Already a member? Click here to go to Writers' Huddle.
---

Writers' Huddle is currently closed to new members. If you'd like to be notified as soon as it reopens, just pop your email address in the box below:

Does this sound familiar?
You want to write, you want – perhaps desperately – to be a writer. But everything seems to be working against you. Including your own brain.
You set yourself ambitious goals, you draw up detailed plans about when you're going to write – but another week goes by with few or no words written.
And another.
And another.
Then a new idea arrives, out of the blue. Or you read something inspiring.
You tell yourself that this time, it's going to be different.
This time, you're going to finish that novel. Or launch your freelancing career. Or blog consistently. You read a ton of books and articles and blog posts. You pay for courses and seminars and conferences.
And for a few days or weeks, perhaps even a couple of months, you actually write.
Then you stall again. And the days go by, and the weeks, and the months, and you're just not getting anywhere.
---
That was the reality of my writing life for a long, long time. It's the reality for a lot of writers and bloggers who I know.
But it doesn't have to be that way.
For me, everything changed when I became part of two communities of writers.
One was a fledgling group of bloggers, back in early 2008.
The other was my workshop group on my Creative Writing Masters degree, who I met in September 2008.
Without those groups, I doubt I'd be writing today. That's the difference they made.
I recognise, though, that I was pretty darn lucky.
I was lucky with blogging. Soon after I got started, I stumbled across some fantastic companions. (I also then bumbled into freelance blogging – which I hadn't realised even existed.)
I was lucky with my Creative Writing Masters. I happened to be living near to Goldsmiths College, part of the University of London, and I got a place on their excellent course. I was 23, with no dependents, and I could afford to take a couple of years to write (and to pay the hefty £4,200 tuition fee).
Chances are, you're not in a position to take a year or two out and to pay a large chunk of money to get that sort of tuition and support.
But I believe that all writers need and deserve to be part of a supportive community.
So, after a few years writing and a couple more years working one-on-one with writers, I launched Writers' Huddle.
As well as all the great teaching content that's included (top-notch monthly seminars, full-length e-courses), we have a fantastic, close-knit community of writers – supporting one another on our individual paths.
We can't make the journey for you.
But we can support you every step of the way.
As a member of Writers' Huddle, you'll get:
The full support of a friendly community of writers – chat about your writing and share your work in a safe, supportive environment.
Top-notch tutoring on writing, through our monthly seminars – learn new tips and techniques you can put into practice straight away.
Access to a wealth of great resources, including our full archive of 50+ seminars, three full-length ecourses and four premium ebooks – you can use these at any time.
We have members all around the world, ranging from teenagers to over 70s, writing novels, short stories, client pieces, blog posts, and much more. Whoever you are, whatever your writing goals, you'll find a home here.
Membership of Writers' Huddle is just $19.99/month (paid via PayPal).
There's no minimum commitment: you can even join for a month, take advantage of all the existing content, and leave.
In fact, if you decide that Writers' Huddle isn't for you, just let me know within 30 days and I'll refund your first month's membership fee.
I'm a freelance writer in Fayetteville, Arkansas. My forte is non-fiction writing, mostly web content, e-book creation and web copy in technical areas, such as computers, software and other related subjects. I'm not a newbie by any means; however, joining the Huddle has shown that you can teach an old dog new tricks.

Many of the members are fiction writers and have a different point of view than non-fiction authors. As a result, I've been exposed to techniques and ideas that were new to me. The camaraderie and willingness to share have been beneficial to my growth as a writer. Ali and the gang are great supporters and will spur you on to do more, do better, to succeed!

– Steve Maurer (Maurer Copywriting)

Writers' Huddle is only open for new members until 31st May 2016:
New for Summer 2016
We have a bunch of new things about to happen in Writers' Huddle, so now's a great time to join us!
(All of these are in addition to the bonuses available for this opening; keep scrolling for those.)

2020 Vision: Setting and Meeting Your Writing Goals, an in-depth seminar (available as audio and as text). This is designed to help you get clear about where you want to be by the end of 2020 (three and a half years from now) – without wasting your time creating complicated plans that will end up changing anyway.

A new (optional!) "buddy" system, which matches you up with one or two other writers so you can share your progress weekly for accountability and support. This is a great way to get support and encouragement, and while it's something that writers have always done informally in Writers' Huddle, we're introducing a "matching-up" process to make it easier (of course you can still make your own connections).

Weekly Office Hours when you can contact me on Skype (through video, audio or text chat, whatever you prefer). Anything goes here! You can bring a short piece of work for me to look at, you can ask questions about any aspect of writing you're struggling with, or you can just drop by for a chat with me. 🙂

The Summer Challenge 2016, which will start in late June. The Challenges are one of the most popular aspects of Writers' Huddle (and one of my personal favourites too!) Everyone who joins in sets a weekly target (e.g. "write a chapter"). We all "check in" each week to share our progress – and there are prizes (Amazon vouchers) along the way.

A group version of the Blog On ecourse, which we'll run through from September onwards. (The full eight weeks of Blog On are available to work through on a self-study basis before then, if you want to.) If you know your blog could do with some attention, or if you're interested in developing your skills to become a freelance blogger, this is the course for you.
Bonuses for Summer 2016, Worth $106
I've got a couple of great bonuses for you this summer (the unusually sunny weather here in the UK has put me in a generous mood ;-)). They are:

Bonus #1: All four of my Blogger's Guides, premium ebooks that normally retail for $29 each or $66 for the four-pack. Writers' Huddle members have always had a 50% discount on these, but I know that many members are on the fringes of blogging or not sure if it's for them … so I'm now making all these ebooks available completely free to every member.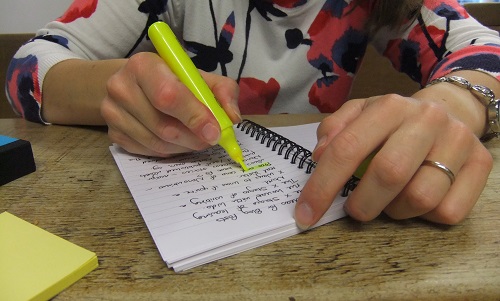 Bonus #2: My personal critique of 2,000 words of your writing. It's a while since I've been able to offer critiques and I'm really thrilled to be able to give you a completely free one as part of your membership. You don't have to take this right away, if you don't feel ready: you can have your critique at any point during your first year of membership. I don't offer any one-on-one coaching/critiques outside Writers' Huddle these days, but if I was charging you at my normal rate for this, it cost you $40.
Note: I normally do my critiques electronically, but if you want it handwritten, as per the photo above… that's fine too!
I won't necessarily offer these bonuses next time (depends how overwhelming demand is this time! ;-)) so definitely join now if you're keen to take advantage of them.
You can download the ebooks to read at any time and you can wait 11 months to book your critique, so you don't need to be ready to get stuck in straight away.
About Ali
I told you a bit about my early days as a writer already. These days, I'm a fiction and non-fiction writer living in Leeds in the UK with my family (husband, toddler daughter, and baby son). I've been writing since my teens, and I have a degree in English Literature and an MA in Creative and Life Writing.
I'm author of Lycopolis and Oblivion (novels) and Publishing E-Books For Dummies (in Wiley's iconic "For Dummies" series). You'll find posts from me on my blog Aliventures, and on some of the best writing-related blogs on the web, like Copyblogger, The Write Life, The Creative Penn and Write to Done. I've also written for Writers' Forum magazine in the UK and taught on the Guardian newspaper's masterclasses.
What You Get When You Join Writers' Huddle
There's a lot going on inside Writers' Huddle (the site began over four years ago) and when you join, you'll get a Welcome pack to help you get started. Here's what to expect from your membership:
Monthly seminars on different aspects of writing. Our members have a broad range of interests, and our past seminars have covered everything from the technicalities of setting up your blog's sidebar to creating characters that readers love. (The full archive list is further down this page.)
The seminars are normally audio, sometimes video; each one has a full transcript, nicely edited for readability, and video seminars also have an audio plus PowerPoint slides option (in case you don't like watching video or your computer isn't up to it). Every seminar also has a worksheet that includes a summary of key points, a practical exercise, and suggestions for further reading or extra resources.
Weekly emails announcing anything new and linking to popular forum posts. From my own experience of belonging to several membership-based sites, I know how easy it is to get busy and fail to login. Every Monday, I send out an email to keep you up-to-date with what's going on in Writers' Huddle.
I keep the emails short and relevant, and include direct links to the resources I mention (e.g. new seminars) so that you can quickly find those in Writers' Huddle.
Personal help from me, through the forums, through email, and through my office hours on Skype. I've had some wonderful writing mentors over the years, and I know that being able to get a question answered or having a chance to talk a problem through can make a massive difference. Any time you need a hand, I'm here to help.
You can post as much as you like in the forums, email me as often as you want, and drop into my office hours whenever you feel like it. (You're also very welcome to meet up with me for coffee, if you happen to be in the Leeds area!)
Full access to the archive of seminars. We've been going since February 2012 – so there are over 50 past seminars for you to check out, whenever you want. You can even download them to your computer so that you've still got them if you choose to leave Writers' Huddle at any point.
Don't worry about forgetting or missing out on the content here: each month, I highlight specific past seminars in the weekly emails, and I also link to relevant ones in the "Further Reading and Useful Links" for each new seminar.
.
Group and self-study ecourses. We've got three full-length ecourses in Writers' Huddle: On Track, which is about getting going again with a big writing project; Blog On, which is for new or established bloggers looking to get some momentum with their blogging; and Launching Your Freelancing Career, which is for anyone wanting to make money (or make more money) freelancing.
The courses are available at any time to go through on your own, but we also run them as group courses from time to time. Each course has a dedicated area in the Forums where you can talk to other people who're working on it.
Loads of opportunities to interact with other writers. Right now, we have regular Challenges, a "buddy" system, a monthly reading group, and of course the forums where anyone can start up a topic for discussion. If you're having a bad writing week, if you want some critiques of your work-in-progress, or if you just want to chat with other writers, we're here for you.
There's a special forum, "Introductions", where you can tell us a bit about you and your writing – lots of our old-time members make a point of popping in there to welcome new faces and to offer support and encouragement.
.
Writers' Huddle is only open for new members until 31st May 2016:
I am enjoying Writers' Huddle a lot. It has quickly become a vital part of my ongoing learning as a writer. In such a short time (of its existence) I have already received some very helpful critiques of chapters of my nonfiction book and my blog posts and guest posts. A few days back a spot-on interview of Seth Leonard on blog sidebars enabled me to make changes to my blog in minutes that improved it considerably.

The people in this community are warm and friendly and supportive. It's a safe place to share your work and get feedback. And they are not afraid to tell you what they think, honestly and constructively. I value that. Ali Luke is endlessly inventive and has an uncanny way of targeting and providing the very information we all need in order to improve our writing skills. I highly recommend this community.

– Bill Polm (Keys to Writing)
Your Writers' Huddle Questions Answered
If you've got a question about Writers' Huddle which I haven't addressed here, just drop me an email (ali@aliventures.com) and I'll be glad to help. (I'll also be completely honest with you. If I feel that Writers' Huddle won't be a good fit for you, it's in my interest as well as yours for me to tell you that up-front.)
How Do I Pay?
All payments are through PayPal. The $19.99 is automatically taken every 31 days (meaning that you get an extra few days free every year). If you're not in the US, PayPal will automatically convert your own currency into dollars. You can cancel your membership at any time, or if you prefer, you can contact me and get me to cancel it for you.
What if I Don't Have Time for Everything?
There are no mandatory elements of Writers' Huddle: you can do as much (or as little) as you want. All the content will be available to you for as long as you remain a member: you don't need to worry if you can't listen to a seminar straight away, for instance, or if you want extra time on an ecourse.
What if I Want to Leave?
You can leave Writers' Huddle at any time by cancelling your membership.
If you cancel within the first 30 days, I'll give you a full refund on your initial month's fee. I want you to be able to try out Writers' Huddle without worrying that you'll end up wasting money.
(And yes, this still applies even if you've downloaded all the content, plus the four Blogger's Guides, and had me critique your writing … if you want your refund, I won't quibble!)
Writers' Huddle is only open to new members from Thursday 1st October to Wednesday 7th October. We won't be opening up the doors again until 2016.
Joining the Huddle has been a great step for me. It's given me an opportunity to chat with fellow writers on a daily basis. I've received constructive feedback from other Huddlers on pieces offered for critique that immediately improved my own writing. I've swapped links on writing tips and greatly enjoyed discussing books on the craft that we've read together. I look forward to being part of this community as I continue on my path to being a published writer, because I know I'll be the better for it when I get there.

– Sean Cunningham
The Full Archive of Seminars
Writers' Huddle has been running for over four years. When you join, you'll have full access to all the existing seminars and Q&As, including:
2012 Seminars Archive:
February: Controlling Your Love/Hate Relationship with Writing (seminar, 25 mins audio)
March: Freelancing 101 (seminar, 47 mins audio)
March: How to Turn Your WordPress Sidebar from Boring to Soaring, with Seth Leonard (webinar, video)
April: Making Money from Your Writing (seminar, 25 mins audio)
May: Short Stories and Fiction Writing, with E.J. Newman (seminar, 59 mins audio)
June: Writing Your First Novel (seminar, 37 mins audio)
July: Publishing an Ebook (seminar, 35 mins audio)
August: Building Your Author Platform Online (seminar, 42 mins audio)
September: Getting Into a Great Writing Routine (seminar, 35 mins audio)
October: Creating and Writing Great Characters (seminar, 42 mins audio)
November: Writing Articles for Magazines, with Steff Green (seminar, 32 mins audio)
December: Email Marketing Strategies, with Henri Junttila (seminar, 30 mins audio)
2013 Seminars Archive:
January: Creating and Reaching Your Goals (seminar, 31 mins audio)
February: The Writing Process from Start to End (seminar, 37 mins audio)
March: How to Write Dialogue Well (seminar, 25 mins audio)
April: A Hands-On Guide to Editing (video seminar, 25 mins)
May: Writing for the Web: What Every Writer Needs to Know (seminar, 28 mins audio)
June: Revising and Editing Fiction (video seminar, 55 mins)
July – August: First Summer Challenge (forum posts & short videos)
September: Getting Motivated and Tackling Resistance (seminar, 35 mins audio)
October: Handling Viewpoint in Fiction (seminar, 36 mins audio)
November: Heroes and Villains, with Lorna Fergusson (seminar, 38 mins audio)
December: Social Networking & LinkedIn, with Steve Maurer (text seminar)
2014 Seminars Archive:
January: Finding, Boosting and Keeping Your Motivation (seminar, 15 mins audio)
February: Winter Challenge (forum posts & short videos)
March: Will You "Make It" as a Writer? (seminar, 38 mins audio)
April: Writing and Self-Publishing Fiction, with Ellie di Julio (seminar, 51 mins audio)
May: Guest Posting: Waste of Time or Great Promotional Tool? (seminar, 43 mins audio)
June: Freelancing and Entrepreneurship, with Thursday Bram (seminar, 43 mins audio)
July: Writing Quality Fiction (seminar, 37 mins audio)
August: Crafting Great Blog Posts (seminar, 34 mins video)
September: Creative Giants and Being a Successful Writer, with Charlie Gilkey (seminar, 49 mins audio)
October: Ten Novel-Writing Lessons Learned the Hard Way (seminar, 40 mins audio)
November: Building a Platform and Building a Business, with Joanna Penn (seminar, 45 mins audio)
December: Twelve Writing Milestones to Celebrate on Your Path to Success (seminar, 43 mins audio)
2015 Seminars Archive
January: Setting and Meeting Your Writing Goals in 2015, with Barry Demp (seminar, 39 mins audio)
February: Structuring and Outlining Your Novel, with K.M. Weiland (seminar, 34 mins audio)
March: Setting Up Your Website: Three Simple Options Explained (video seminar, 44 mins)
April: Freelance Copywriting and Editing, with Linda Anger (seminar, 42 mins audio)
May: Making Time to Write (two versions of the seminar, 13 and 14 mins audio) 
June: Writers' Groups: How to Start One, Join One, or Get the Most from One (seminar, 33 mins audio)
July: Writing, Serialising and Publishing Fiction, with Nick Bryan (seminar, 37 mins audio)
August: Six Reasons to Get Into Freelance Writing (seminar, 27 mins audio)
September: Writing Descriptions that Engage Your Reader and Advance Your Story (video seminar, 47 mins)
October: NaNoWriMo: How to Write a Novel in a Month, with Huddle Members (seminar, 41 mins)
November: Planning, Structuring and Pacing Scenes, with Roz Morris (seminar, 40 mins)
December: Developing Your Non-Fiction Voice and Style (video seminar, 52 minutes)
2016 Seminars Archive:
January: Beating Procrastination and Conquering Writers' Block, with Tim Brownson (seminar, 35 mins)
February: Building an Audience for Your Blog and Business (seminar, 35 mins)
March: Crafting Short Stories and Entering Competitions, with Emily Devane (seminar, 38 mins)
April: Seven Ways to Add Depth to Your Characters (seminar, 40 mins)
May: Working with a Writing Coach or Mentor (seminar, 35 mins)
All seminars have edited transcripts for easy reading, if you prefer to read rather than listen.
I have learnt a lot in the few months that I've been a member of the Huddle, both through the seminars and Q&As as well as on the forum, gleaning advice from other members. Being in a community of writers has also given me the confidence to write my first guest post (which was accepted) after three years of blogging!

– Melissa Goodwin

I joined Writers Huddle a few years ago, and what a good move it's been for my writing, and for me as a writer. Of course the resources are very good. There's lots to keep you busy, but there's much more on offer. Sometimes you just want to connect with someone else who is going through the same stuff as you. Someone who can identify with your writerly woes, and is on hand to give you advice, or feedback.

Being a member of the Huddle makes me feel part of a writers community. I like that, and know if something is bothering me, I can pop into the forums, ask a question, and before long, someone will respond, and offer advice on POV, character, or writers block! Whatever it is that causes us angst can be eased. It's great to feel part of something, and to feel supported.

– Maria
The Full List of Ecourses
Blog On
Module #1: Blogging Ideas
Module #2: How to Write a How to Post
Module #3: Your Contact Page
Module #4: How to Write a List Post
Module #5: Your About Page
Module #6: How to Write a Link Post
Module #7: Your Services Page
Module #8: Blog Post Structures
Launching Your Freelancing Career
Module #1: Refining Your Business Idea
Module #2: Setting Yourself Up to Do Business
Module #3: Building Your Online Presence
Module #4: Writing Your First Pieces and Getting Testimonials
Module #5: Finding Your First Clients
Module #6: Growing Your Network
Module #7: Handling Clients
Module #8: Switching to Full-Time
On Track
Module #1: Make a Great Start
Module #2: Setting Milestones That Work
Module #3: Your Perfect Writing Routine
Module #4: Planning Your Project
Module #5: Getting from First Draft to Final Piece
Module #6: Sharing Your Love of Writing
Module #7: All the Resources You Need
I remember getting the notification that Ali had started the Huddle and instantly thinking: if there ever was a place to connect with other writers and learn how this online niche works, this is it! And I was right. I've learned so much here from other members – and of course from Ali – as we all have different backgrounds and experiences with writing, you have no idea 🙂

– Vala Faye
Writers' Huddle is only open for new members until 31st May 2016: